Many times cities that are great places to visit and vacation are also great places to live and retire, and Baltimore fits that bill. Baltimore is the center of culture in the state of Maryland. Although its past as an immigration center and a manufacturing center is long gone, Maryland is home to the Johns Hopkins Medical School and Hospital which are world famous and the largest employers in Baltimore. Baltimore's airport has access to many parts of America so you can easily hop on a cheap Southwest Airlines flight to almost anywhere in the U.S. If going overseas, you can take a flight from one of Washington D.C.'s major airports to just about anywhere. Baltimore is close to Washington D.C so you can also visit the museums and sites of the national capital.
Retirement Housing Options: In Baltimore there are unique housing options for 55+ living which include condos, apartments for rent, hi-rises, retirement communities, lofts, co-ops, luxury condominiums, top end townhouses and other housing for over 55 boomers and seniors.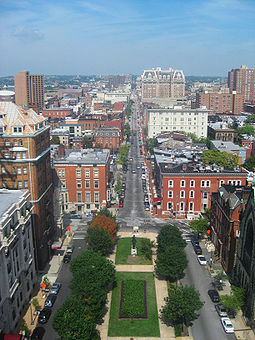 Baltimore Areas and Districts:
Baltimore's Mt Vernon Cultural District, a historical neighborhood near Baltimore's Inner Harbor and Baltimore's most creative and energetic community. You'll be just steps away from the Meyerhoff Symphony Hall, Lyric Opera House, Centerstage, and the Walters Art Museum. Plus, you'll enjoy the shops, restaurants, and some of the most impressive 19th century architecture on the East Coast.
Many consider Baltimore to be among the best retirement cities in the U.S. Here are some other reasons to choose living in Baltimore.
Baltimore Maryland Retirement Communities
Charlestown Retirement Living is situated on a scenic 110-acre campus in Catonsville, Maryland, less than 10 miles from downtown Baltimore. Enjoy the best that the metro area has to offer by way of cultural attractions, restaurants, shopping, and the great outdoors.
* Enjoy live music at the Meyerhoff Symphony Hall or the Lyric Opera House.
* Take in a drama, comedy, or musical at the Hippodrome Theatre or Centerstage.
* Cheer on the home team at Oriole Park at Camden Yards and M & T Bank Stadium, home of the Baltimore Ravens—or try your luck at the Pimlico Race Track.
* Play a round at the nearby Carroll Park Golf Course or Diamond Ridge Golf Course.
* Shop and dine in Baltimore's Inner Harbor, historic Ellicott City, or Arundel Mills Mall.
* Go for a hike or leisurely bike ride at the beautiful Patapsco Valley State Park, just a few miles from campus.

Social Opportunities: studies have shown that a good group of friends is more important to a happy retirement than money or health. Baltimore offers many opportunities with civic groups and hobby clubs to generate a solid core group of friends. These friends can help ward off the problems of aging like dementia and health issues.
Public Transportation: rural living isn't good for seniors who can't drive since they require someone's help to get around. The expenses of transportation add up quickly for fixed-income seniors so well-served public transportation of Baltimore is quite beneficial. Even better is that most public transit systems have senior rates that are much cheaper than normal.
Access to Medical Services: it's pretty obvious that if you live near a hospital, you're more likely to survive a medical emergency. Despite how your mind feels, the body starts to break down and there's a good chance you'll need a hospital visit during your retirement years. Living in Baltimore is great since there are more specialists and medical services available and at cheaper rates.
Access to Local Businesses: city living offers walking distance to most businesses that you'll ever use in your retirement years. Even if you need to travel, there are a lot more shopping centers and discount stores in urban areas.
Fitness: exercise is critical to keeping healthy during your retirement years. Cities have every type of fitness facility from standard fitness centers to niche fitness places like indoor rock climbing walls so there's something for everyone. Even if you want to exercise on your own, there's tons of parks or indoor malls to enjoy walking in. Baltimore City is proud to feature approximately 6, 000 acres of parkland and public space. Within our city borders, there are over 300,000 street trees and a large inventory of park trees. In one of the larger parks, you may find yourself in the middle of a beautiful country estate. Visitors can take a peaceful walk in the woods on the back roads of Druid Hill Park, sit quietly and watch birds by the lake at Patterson Park or play a relaxing round of golf in Clifton, Carroll and Forest parks. Our smaller community parks provide areas to meet and greet your neighbors.
Continuing Education: today's seniors know the importance of exercising their brains, as well as their bodies. Urban living provides access to a wide range of classes, through local universities, museums, city recreation departments, etc. Enrolling in these types of courses can help stave off the depression that some people feel once they stop working full time. The University of Baltimore is located in the Mount Vernon Cultural District.
Food and Entertainment: retirement should be full of activities you never had a chance to enjoy while working. Dinners out to fancy restaurants or weekend getaways to a nearby city or historical site are all possible living in a city. Usually, cities have tons of entertainment venues like theaters and museums and there's always something going on. The National Aquarium, is Baltimore's leading attraction. Baltimore's Inner Harbor is one of America's oldest seaports - and one of the world's great travel destinations. Baltimore has many interesting museums and things to do and see.
There are many great places for a high rise condo for the senior with an active and fun life who wants a home to match that lifestyle.