Atlanta is home to five million people and more are moving here all the time. As we grow older not all of us will want to move to the country. In fact studies show most of us boomers will stay put. Some will even move closer in to the city.
We focus on Atlanta retirement homes inside the perimeter.
Atlanta Retirement Living
Best Neighborhoods in Atlanta For Retiees:
Buckhead - Brookhaven - Sandy Springs - Perimeter - Piedmont Park Midtown Atlanta
The Dakota
850 Piedmont Avenue NE
Atlanta, GA 30308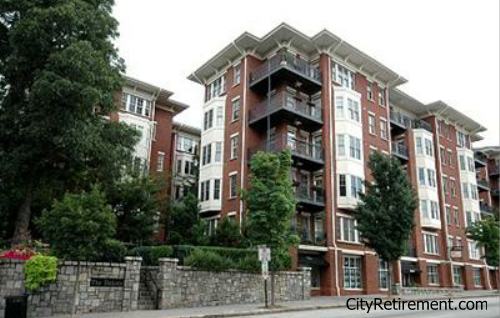 MidTown Atlanta Condos Atlanta, GA
MidTown Spire
860 Peachtree St Atlanta, GA 30308
Spire Midtown Condominiums, a condo development in Atlanta

Metropolis
943 PEACHTREE ST, ATLANTA, GA 30309
All homes are wired for high-speed Internet and cable TV. Controlled access for ultimate privacy. An astounding 90 security cameras are located throughout Metropolis, including the garage.Other project features:- Concierge- Controlled covered parking- Upscale retail and dining on the ground floor- Majestic and contemporary lobby with soaring ceilings and elegant detail- Prominent Peachtree street address- Landscaped 7th floor terrace- Private club and theatre room- 7th floor fitness center over looking Peachtree Street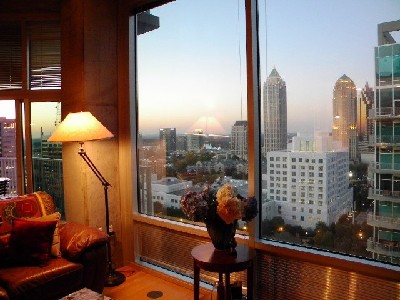 and in Sandy Springs...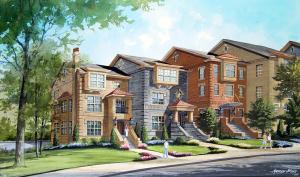 CITY WALK HEIGHTS, Sandy Springs Georgia
Live, work, play community in Sandy Springs GA. Atlanta GA area new luxury homes! The community is a part of a
visionary plan that¹s transforming the area into a beautiful mixed-use,pedestrian-friendly village. Incredible shopping, dining, entertainment andbusinesses are all within a few footsteps from your front door. Living here
also offers easy access to all the added possibilities abounding in thePerimeter Center district and Buckhead. Nearby transit offers easy access tothe entire metropolitan area including the airport.

Escaping to nature is easy at the nearby Chattahoochee River NationalRecreation Area - offering the opportunity to fish, bike, walk, and paddle.Other parks and cultural attractions offer a rich tapestry of choices ­ all combining to make City Walk Heights incredible city living like you¹ve never experienced before.
City Homes and Villas
from the Mid $500¹sContact Carrie Moore at 770-851-6066 or Anne Mulcahy at 678-472-2008. Our web site.
===============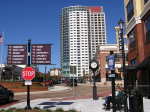 This is the Manhatton condo off Abernathy East of GA 400. It is located on the edge of two shopping distrist which are just outside your door. Seems like a great place to live for 55 Plus.
At the Renaissance on Peachtree, (Buckhead) we are committed to the residents we serve. That commitment has resulted in an approach to management which is characterized by the compassionate care and genuine interest in the growth and well-being of each resident. We offer the senior citizen an affordable and attractive living environment complete with fine dining, the most extensive transportation system in the retirement community industry and 24-hour security.
3755 Peachtree Road, Atlanta GA
===============
Canterbury Court, (Buckhead-Brookhaven) Atlanta's first non-profit Continuing Care Retirement Community (CCRC). For over 40 years Canterbury Court has been providing the best value in retirement living in the area to seniors age 62 or older: quality facilities and quality services that are affordable.
Canterbury Court - Situated on 11 beautifully landscaped acres in the heart of Canterbury Court consists of 3 towers – the North Tower, South Tower and West Tower. Within these towers seniors and their families will find 208 independent apartments, 18 Personal Care (Assisted Living) apartments and a 44 bed nursing facility. Our affordable apartments range in size and costs from comfortable studio units to spacious three bedroom with den floor plans, each equipped to maximize your independence and provide you peace of mind.
===============
Peachtree Hills Place, a retirement community set to open in Buckhead in 2009. The community will be the second of its kind by Atlanta-based Isakson-Barnhart. The "entrance fee" for residences in Peachtree Hills Place will start at $546,000 and go up to $1.3 million, not including monthly fees.
=============
Campbell-Stone first began providing residential housing and services to senior adults in Atlanta, Georgia in 1964. Now in its fifth decade of service, Campbell-Stone is still committed to offering the highest quality service available in the residential living and assisted living markets. With two communities in metropolitan Atlanta, Campbell-Stone Apartments in Buckhead and Campbell-Stone North Apartments in Sandy Springs, Campbell-Stone serves over 600 residents and their families with a strong sense of commitment, compassion and respect. As not-for-profit organizations, the Campbell-Stones are mission driven and resident focused in our operations and in the delivery of services to our residents.
At Campbell-Stone, you will find retirement and assisted living that combines the best of all possible worlds. Enjoy conveniences, services, activities, and amenities in a safe and secure setting. Don't limit yourself in addressing your retirement needs - come and see the not-for-profit difference at Campbell-Stone!

=================
Continuing Care Retirement Community - CCRCs are so named because they address the entire continuum of care with healthy seniors moving into independent living apartments, but having the security of knowing they can "age in place" thanks to assisted living and skilled nursing services on site. The number of CCRCs nationally has risen sharply over the past 25 years from 274 in the early 1980s to 2,240 in 2005, according to the American Association of Homes and Services for the Aging.
When Lenbrook, a continuing care retirement community (CCRC), opened in 1983, two-bedroom units averaged 1,000 square feet.
Now the campus, which is just five blocks north of Phipps Plaza, is undergoing a nearly $165 million expansion including a 25-story tower and garden apartments ranging up to almost 3,000 square feet, plus lavish amenities -- including a spa, a gym, four dining rooms and a movie theater, said Martha Jane Hudnall, the marketing consultant for the community.

Lenbrook is one of three Buckhead CCRCs either expanding or under development.
=====================================
AARP The Magazine has ranked Atlanta among the top five places in which to retire.
"A sophisticated metropolis with southern charm, Atlanta offers abundant volunteer and cultural opportunities," the magazine said. "Retirees also appreciate the wide range of housing options."

Completing the top five are Beacon Hill in Boston; Chandler, Ariz.; Milwaukee, Wis.; and Portland, Ore.
"The places we chose are ahead of the curve in providing services for empty nesters, active retirees, and everyone in between and we're thrilled to recognize them for their efforts," said Steve Slon, editor of AARP The Magazine. "City living may cost a bit more, but urban communities also deliver peak value in the form of culture, work options, mass transit and fitness opportunities, and this year's selections really cover the spectrum."
AARP The Magazine said its selections focus on livable community characteristics in each location including mass-transit systems so residents can drive less, expanded sidewalks to encourage walking, better health care, and a wide range of mixed use housing. These qualities attract members of the 50-plus age group, a segment that spends more than $2.2 trillion on goods and services each year and is expected to grow in size by 32 percent in the next 15 years.
Atlanta Condo News
According to an article in the Atlanta Business Chronicle" Several major condo projects are expected to be completed in 2008, with many appealing to Atlanta's baby boomer population. (See box above for a list of units under construction.)
"A growing trend in the condominium market is developers of new high-end towers offering luxury services to residents that save time, such as auto detailing, pet services and other concierge perks," the report stated. "Target buyers of new construction are primarily retirees and move-up professionals who can afford these services."
According to Haddow & Co., the supply of condos in Atlanta should meet demand for another 31 months. As a result, some condo developers have reversed their plans to apartments, due to local market conditions and the credit squeeze, the report stated.
In the pipeline
High-rises under development in Buckhead and Midtown:
Mansion on Peachtree: 42 units ($2.4 million to $12 million)
Sovereign: 82 units ($1.2 million and up)
1010 Midtown: 426 units ($251,000 to $1.6 million)
Luxe: 117 units ($350,000 to $2 million)
ViewPoint (Phase I): 385 units ($210,000 to $480,000)
Trump Towers: 570 units ($400,000 to more than $1 million)
America's 40 "recession proof" retirement cities.
Metro Atlanta ranks No. 1 on a new list by Forbes of America's 40 "recession proof" retirement cities.Forbes said it considered such factors as average income for seniors, current and expected home prices, job-growth predictions through 2014, the cost of living and median monthly housing cost.
At lanta ranked 17th for number of sunny days, 17th for income of residents 65 and older, seventh for median home price, 17th for home price change predicted for 2009-2014, 11th for cost of living and 23rd for median housing cost. Click here for Forbes list.