Phoenix has grown quickly since it's founding in 1861. It is currently the 5th largest city in America with 1.6 million people. Phoenix city living is a great option for the senior who wants to live in a warm yet dry climate and still have all the amenities that the big city offers.
Recent high rises like 44 Monroe, while a remnant of the real estate crash, offer the senior wanting to live near cultural attractions and the action of the downtown area.
Phoenix Retirement Housing Options: In Phoenix AZ there are unique housing options which include condos, apartments for rent, high rises, retirement communities, lofts, co-ops, luxury condominiums, top end townhouses and other housing for over 55 boomers and seniors.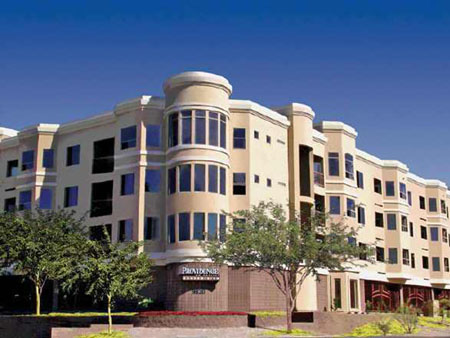 WeKnowUrban.com - Phoenix Lofts & Phoenix High Rise Condos. Urban living in Phoenix is diverse, exciting and convenient. From Phoenix high rise towers in Phoenix Downtown, Phoenix Midtown and the Biltmore to architecturally interesting lofts and condos in small established neighborhoods. Most are close to hip and cool restaurants, coffee shops, boutiques, premium shopping, entertainment, and in some cases the light rail. Urban enthusiasts enjoy convenience, a sense of community and seem to have more time to do what they enjoy.
Downtown Phoenix is the place where creative people come to do extraordinary things. It is the commerce and cultural capital of Arizona, representing an urban hub of performing arts venues, unique restaurants, museums, educational opportunities and diverse residential options. If you're looking for a truly enriching environment, come to Downtown Phoenix and see what all the buzz is about.
Brick Commons Condominiums are conveniently located within walking distance to the Phoenix Light Rail.These luxuriously appointed condominiums are just minutes away from downtown Phoenix and are across from the Phoenix Country Club. Downtown Phoenix is the urban heart of Arizona. Vibrant. Energetic. Inventive.
Arizona Grand is an exciting senior living community offering everything you need and want in retirement living. Our social programs and activities are exceptional! And our meals and dining... simply exceptional, too! Arizona Grand offers a full range of care and services for seniors including Independent Living, Assisted Living, Assisted Living Deluxe and Skilled Nursing. Ask about our 'Aging in Place' philosophy, which allows you to remain in our community as your needs for services may increase.
Many consider the Phoenix Arizona area to be among the best retirement cities in the U.S. Here are some other reasons to choose living in Phoenix.
Among the advantages you can expect with urban post-retirement communities in Phoenix AZ:
Social Opportunities in Phoenix
The Newcomers Club Arizona (www.newcomersclub.com/AZ) is a local group dedicated to helping men and women develop friendships in the local area.
Since Phoenix is a rapidly growing city with many people having relocated in recent years, the Newcomers Club is great for the recent retiree to "plug in" to the local community.
Since Phoenix is also one of the largest cities in America, there are also a plethora of social activities such as networking groups and hobby clubs that are available to join.
Public Transportation in Phoenix
The Valley Metro is the organization that runs the public transit system in the Phoenix metro area. Started in 1985, it has steadily grown through local sales taxes and now includes "light rail" which started in 2008. The Phoenix Sky Harbor International Airport is nearby. METRO light rail is a great way to get to work, school, shopping and events in Phoenix, Tempe and Mesa. Light rail connects seamlessly with the bus system - your transit pass is good for both.
Hop on a bus to another district, go for dinner, and jump on a return bus back. You won't have to deal with traffic and can enjoy your evening stress-free!
Access to Medical Services in Phoenix AZ
Phoenix is a retirement mecca due to the warm/dry weather and plenty of golf courses. This means that the medical facilities are used to dealing with health issues of seniors.
The University of Arizona's Medical School is located in Phoenix so this guarantees that there are specialists available for virtually any need. There's also a branch of the world-famous Mayo Clinic which has 424 doctors and with just under 5,000 regular staff members.
Access to Local Phoenix Businesses
Since Phoenix has mushroomed in size, there are a number of different service providers that can be used. If you enter "Phoenix Errand Service" into Google you can find people who can do errands for you if you're too busy having fun.
No matter what, if you live in a high rise downtown there are going to be grocery stores, dry cleaners, restaurants, and other local businesses that you can get most of your needs satisfied in.
Restaurants in Phoenix
The Chuckbox (www.thechuckbox.com) in Tempe is a highly rated lower ticket dining destination that has a simple menu consisting of delicious char-broiled hamburgers with sides.
For a more expensive dining option, Scottsdale offers the Metro Brasserie and Bar, a fine country French cooking establishment. Their website can be found at www.metrosouthbridge.com
For more restaurants check out Urbanspoon (www.urbanspoon.com)
Fitness Phoenix Style
Since Phoenix is so hot and dry, exercising outdoors, especially during the summer can be dangerous. Either way, as long as you stay hydrated, exercising is a great way to stay energized. Uncommon in many communities are the vast opportunities to go rock climbing that Phoenix offers. If you've never been before, you can visit an indoor rock climbing facility where you can learn before hitting the rocks.
Hiking is also a pleasurable fitness activity with all the mountains and parks that surround the city. You can visit some of Phoenix's parks like South Mountain Park, Papago Park, or Rio Salado Habitat Restoration Area.
Continuing Education - Phoenix
Phoenix is home to Arizona State University whose main campus is located in the suburb of Tempe. There are continuing education courses, lectures, and seminars but one of the unique opportunities is mentoring current students who are learning the field that you retired in. This way you can impact the future workforce while still keeping your skills sharp. ASU Downtown Campus and UA College of Medicine-Phoenix.
Clubs, activities, and auditing courses are all ways to learn things without spending a fortune.
Cultural Attractions in Phoenix
The Heard Museum (www.heard.org) is one of Phoenix's first cultural attractions and was founded in 1929. It has one of the largest collections of American Indian Arts and Culture. It has 10 exhibition galleries, free guided tours, an outdoor sculpture garden, and a well-decorated café.
Desert Botanical Gardens- full of desert plants with many rare species, this is one of only 44 certified botanical gardens in the United States.
Scottsdale Art Walk- Scottsdale has over 100 art galleries and every Thursday night from 7-9pm there are special exhibits that you can visit as you walk all the galleries.
All these activities are just scratching the service of the cultural attractions of the Southwest.
Overall, Phoenix is a great place for the active retiree who wants big city living, warm weather without humidity, and a wide variety of activities that can't be replicated anywhere else. Since Phoenix grows rapidly over time this makes living in Phoenix a never boring experience since there is always new stuff to do!