Seattle, Washington is the biggest city in the state of Washington and the 16th largest in the United States. A very wealthy city due to its aviation, information technology, recreation, and architecture industries, Seattle is the 17th highest out of 363 metro areas in terms of per capital income. This means that a lot of businesses can exist in this city so your retirement will be full of different shops to visit.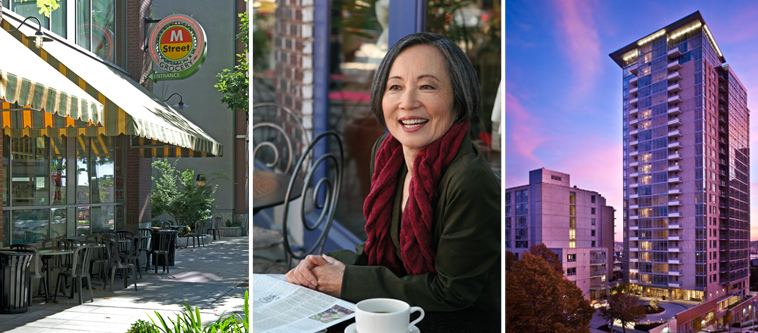 Seattle is a very educated city. It has the highest percentage (53.8%) of residents with at least a bachelors degree of any major American city. A city that values education like this is great for retirement since you'll be able to find educated people to talk to and the populace wants to visit museums and other cultural attractions.
For coffee-loving retirees, there's probably no better place than Seattle which is home to many major coffee chains including Starbucks as well as many independent specialty coffeehouses.
Seattle WA has grown to be a very car-congested city. In recent years though, the government has tried to alleviate this congestion. Commuter rails, light rail, and a downtown trolley network all can provide easy to use public transportation to reduce the need to drive.
Seattle Retirement Housing Options: In Seattle there are unique housing options which include condos, apartments for rent, hi-rises, retirement communities, lofts, co-ops, luxury condominiums, top end townhouses and other housing for over 55 boomers and seniors.
Mirabella - Seattle WA - The word mirabella translates from Italian as "beautiful vision" – and that's exactly what you'll find for yourself at these brand-new, not-for-profit Continuing Care Retirement Communities (CCRC). At Mirabella, you'll find a vision of your future that is bright, vibrant, and exciting. One that is rich with friends, fun, and personal fulfillment. And you'll find all the senior-living and health care services you'll ever need: Independent Living, Assisted Living, Memory Care, and Skilled Nursing Care in all-private suites. Mirabella Seattle enjoys a spectacular location in South Lake Union's Cascade Neighborhood. The area consists of a wonderful blend of housing options, retail establishments, small businesses, educational facilities, places of worship, cultural venues, restaurants, and an array of conveniences.
South Lake Union also offers residential developments designed for people of all ages. The brand-new 2200 Condominiums and Alley 24 are now open, and their first floors are home to a variety of new retail venues including day spas, furniture stores, pet stores, a children's boutique, and more.
SKYLINE AT FIRST HILL • NOT-FOR-PROFIT SENIOR LIVING
725 9th Avenue • Seattle, WA 98104
As downtown Seattle's only true Life Care retirement community, Skyline combines:
* The excitement and energy of urban living.
* A premier location in First Hill, a walker's paradise that's home to dozens of one-of-a-kind cafes, restaurants and boutiques.
* Maintenance-free independent living for comfort and convenience.
New Seattle Luxury Boutique 744 Harvard Ave E, Seattle, WA 98102 206 999 0206
Situated in North Capitol Hill's Historic Harvard/Belmont district this new steel & concete structure offers 4 lovely condominiums flats from 980-2300 sq ft. each with elevator access & secure parking. Lovely residential enclave for easy living.
Horizon House is a Continuing Care Retirement Community, designed to provide a spectrum of services and care for residents, from complete independence to individualized care in Supported Living ranging from light assistance to daily living to 24-hour-a-day nursing care. Located in downtown Seattle, as a Horizon House resident, you'll enjoy all the city has to offer, just steps from your new home. Restaurants, theatre, art galleries, Pike Place Market, and Freeway Park are all part of your new neighborhood. Your new home also offers the health care security of the area's finest hospitals and clinics within walking distance.
Washington Retirement Communities and Homes
Bow Lake 55+ Residential Community WA
18050 32nd Avenue South, Seatac, WA 98188
Bow Lake 55+ Residential Community is a safe, secure and well-maintained manufactured home community located in SeaTac. Committed to being here for the long-term, we provide residents 55 and over a desirable retirement senior lifestyle.
Trilogy at Redmond Ridge - Seatte WA New 55+ Homes
23215 NE Greens Crossing Rd, Redmond, WA 98053
Trilogy at Redmond Ridge is delightfully secluded, yet is less than 10 miles from the sophisticated shopping and restaurants of Bellevue, and only 20 minutes from downtown Seattle and all its attractions.
Many consider Seattle to be among the best retirement cities in the U.S. Here are some other reasons to choose living in Seattle.
Social Opportunities: studies have shown that a good group of friends is more important to a happy retirement than money or health. Seattle offers many opportunities with civic groups and hobby clubs to generate a solid core group of friends. These friends can help ward off the problems of aging like dementia and health issues. # South Lake Union Friends and Neighbors - www.SLUfan.org
Public Transportation: rural living isn't good for seniors who can't drive since they require someone's help to get around. The expenses of transportation add up quickly for fixed-income seniors so the public transportation of Seattle is quite beneficial. Even better is that most public transit systems have senior rates that are much cheaper than normal. # Metro - www.transit.metrokc.gov
Access to Medical Services: it's pretty obvious that if you live near a hospital, you're more likely to survive a medical emergency. Despite how your mind feels, the body starts to break down and there's a good chance you'll need a hospital visit during your retirement years. Living in Seattle is great since there are more specialists and medical services available and at cheaper rates.
Access to Local Businesses: city living offers walking distance to most businesses that you'll ever use in your retirement years. Even if you need to travel, there are a lot more shopping centers and discount stores in urban areas.

# Discover South Lake Union www.discoverslu.com
# Denny Triangle - www.dennytriangle.org
# Space Needle - www.spaceneedle.com
# Cornish College of the Arts - www.cornish.edu
# Kenmore Air - www.kenmoreair.com
# Center for Wooden Boats - www.cwb.org
Fitness: exercise is critical to keeping healthy during your retirement years. Cities have every type of fitness facility from standard fitness centers to niche fitness places like indoor rock climbing walls so there's something for everyone. Even if you want to exercise on your own, there's tons of parks or indoor malls to enjoy walking in.
Continuing Education: today's seniors know the importance of exercising their brains, as well as their bodies. Urban living provides access to a wide range of classes, through local universities, museums, city recreation departments, etc. Enrolling in these types of courses can help stave off the depression that some people feel once they stop working full time.
Food and Entertainment: retirement should be full of activities you never had a chance to enjoy while working. Dinners out to fancy restaurants or weekend getaways to a nearby city or historical site are all possible living in a city. Usually, cities have tons of entertainment venues like theaters and museums and there's always something going on.