San Francisco, California is a major world tourist destination due to its unique landmarks and cosmopolitan population. Its accepting culture and liberal attitude make it a great retirement destination for fun-loving seniors who are accepting of all people and want a diverse culture in their retirement home.
San Francisco CA is the 2nd most densely populated city in the United States after New York City. This means that you'll be close to almost every service you could ever imagine. With the subway and trolleys, there are plenty of transit options for you to get around.
Due to the hilly geography that San Francisco is built upon, there's a very good chance that wherever you live, you'll have a view. This is a nice little treat for retirees who want to overlook the Pacific Ocean.
With San Francisco's rapidly growing cruise industry, it's getting more and more common for different cruise itineraries to be available for last minute weekend cruises or longer cruises to exotic destinations like Hawaii and Alaska.
Retirement Housing Options: In the city there are unique housing options which include condos, apartments for rent, hi-rises, retirement communities, lofts, co-ops, luxury condominiums, top end townhouses and other housing for over 55 boomers and seniors.
California Retirement Community Living
California Bay Area Active Adult Retirement Community – Brentwood
1988 Sacred Mountain Lane, Brentwood, CA 94513
Trilogy at The Vineyards is an active adult golf retirement community located in the bay area of Northern California, less than an hour from San Francisco in the quaint city of Brentwood offering new homes with fabulous in-home and on-site amenities.
Northern California Active Adult Retirement Community – Rio Vista
1200 Clubhouse Drive, Rio Vista, CA 94571
Trilogy at Rio Vista is an active adult golf retirement community located on the Sacramento-San Joaquin River Delta in the greater San Francisco Bay Area of Northern California offering new homes with fabulous in-home and on-site amenities.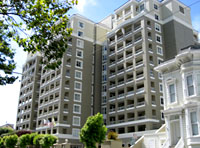 The Carlisle: Luxury Retirement Condominium
A distinctive senior living community and one of the few in San Francisco, which offers the benefits of home ownership to independent, active seniors. Live within the heart of San Francisco, voted the most desirable city in the world, while enjoying fine dining and an array of lifestyle services, amenities, and activities. The Carlisle combines the value of condominium ownership with the peace of mind that comes from knowing that Assisted Living support services are available right within your own condominium, should you ever need them.
Aegis of Concord - Retirement Community - Life at an Aegis Signature Living community is like living in a five star hotel, with all the elegance, luxury and security you expect. You'll enjoy spectacular surroundings, trained staff ready to serve you, spacious floor plans and beautiful architecture. As you enter this haven of comfort and leisure you know you are in good hands. Our concierge sees to your every request, the housekeeping staff frees you from household demands and our care team looks after your health and well-being. All of this with the sophisticated amenities you find in the world's finest resorts:
* Gourmet dining created by a world-class Executive Chef
* Formal dining room with enchanting views and grand balcony
* Private dining room for intimate soirees
* Heated swimming pool and day spa
* Ballroom for entertainment and dancing
* Private movie theater with plush seating and surround sound
* Fitness center and wellness services, with licensed nurse for consultation
* Beauty salon and barber
* Social director to plan a vast array of activities
* Library and business center with high-speed Internet access
* Town car service for shopping or excursions

The Waterford type of "independent congregate living" refers to a form of senior housing where seniors live independently on their own usually in one building, apartment style residences, share common areas, social activities and amenities and eat most of their meals in a common dining room.
* Do you like the facility's location and outward appearance?
* Is the facility convenient for frequent visits by family and friends?
* Is the facility near a shopping and entertainment complex?
* Can the resident access a medical complex easily?
* Is public transportation available/accessible?
* Are you welcomed with a warm greeting from the staff?
* Does the staff address residents by their names and interact with them during your tour?
* Do you notice the residents socializing with each other and do they appear content?
* Can you talk with residents about how they like living there and about the staff?
* Is the staff appropriately dressed, friendly and outgoing?
* Do the staff members treat each other in a professional manner?
* Are visits with the residents encouraged and welcome at any time
* What percentage of the apartments has been rented and is occupied?
* Is there a waiting list? If so, how long do they estimate it will be for a unit to become available?
* Have the common areas and apartments been designed to allow you to live as easily and independently as you would like?
*Is the floor plan well designed and easy to follow? What kind of person needs Congregate Housing?
Congregate Housing is for seniors who are no longer able or willing to live completely independently. They may still wish to live in a private senior apartment, but welcome being free of the responsibilities of grocery shopping, meal preparation and housework. They are capable of getting to the communal dining area independently.
Congregate Housing usually provides the same basic services as most senior retirement apartment complexes
Many consider San Francisco to be among the best retirement cities in the U.S. There are many reasons to choose retirement living in San Francisco.
Social Opportunities: studies have shown that a good group of friends is more important to a happy retirement than money or health. San Francisco offers many opportunities with civic groups and hobby clubs to generate a solid core group of friends. These friends can help ward off the problems of aging like dementia and health issues.
Public Transportation: rural living isn't good for seniors who can't drive since they require someone's help to get around. The expenses of transportation add up quickly for fixed-income seniors so the public transportation of San Francisco is quite beneficial. Even better is that most public transit systems have senior rates that are much cheaper than normal. Besides street cars there's BART, Bay Area Rapid Transit.
Access to Medical Services: it's pretty obvious that if you live near a hospital, you're more likely to survive a medical emergency. Despite how your mind feels, the body starts to break down and there's a good chance you'll need a hospital visit during your retirement years. Living in San Francisco is great since there are more specialists and medical services available and at cheaper rates.
Access to Local Businesses: city living offers walking distance to most businesses that you'll ever use in your retirement years. Even if you need to travel, there are a lot more shopping centers and discount stores in urban areas.
Fitness: exercise is critical to keeping healthy during your retirement years. Cities have every type of fitness facility from standard fitness centers to niche fitness places like indoor rock climbing walls so there's something for everyone. Even if you want to exercise on your own, there's tons of parks or indoor malls to enjoy walking in.
Continuing Education: today's seniors know the importance of exercising their brains, as well as their bodies. Urban living provides access to a wide range of classes, through local universities, museums, city recreation departments, etc. Enrolling in these types of courses can help stave off the depression that some people feel once they stop working full time.
Food and Entertainment: retirement should be full of activities you never had a chance to enjoy while working. Dinners out to fancy restaurants or weekend getaways to a nearby city or historical site are all possible living in a city. Usually, cities have tons of entertainment venues like theaters and museums and there's always something going on.