Pittsburgh, known as the Steel City, is a modern city that has transitioned from its roots as the main steel manufacturing center of the United States.
In 2012, Pittsburgh was voted the most livable city by Forbes Magazine. Pittsburgh's unique and friendly culture easily justifies this award.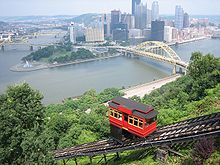 Pittsburgh is noted for its medical care and is home to UPMC and its affiliated health network. There is a lot of research conducted here so as a retiree, you'll be getting cutting edge medicine if the need should ever arise.
Due to Pittsburgh's famous businessmen of the 19th century, Pittsburgh is full of cultural attractions like theaters, dance companies, operas, and the like. Art museums abound so a retiree can easily visit one of the many at their leisure.
Many consider Pittsburgh Pennsylvania to be among the best retirement cities in the U.S. Here are some other reasons to choose living in Pittsburgh.
Social Opportunities: studies have shown that a good group of friends is more important to a happy retirement than money or health. Pittsburgh offers many opportunities with civic groups and hobby clubs to generate a solid core group of friends. These friends can help ward off the problems of aging like dementia and health issues. In the computer age, there have been many sites created to help people mingle. The best one is meetup.com. It's an online directory of all kinds of offline clubs. It provides an online home to these clubs so new members can inquire about joining. Pittsburgh's page can be found at www.meetup.com/cities/us/pa/pittsburgh
Public Transportation: rural living isn't good for seniors who can't drive since they require someone's help to get around. The expenses of transportation add up quickly for fixed-income seniors so the public transportation of Pittsburgh is quite beneficial. Even better is that most public transit systems have senior rates that are much cheaper than normal.
Access to Medical Services: it's pretty obvious that if you live near a hospital, you're more likely to survive a medical emergency. Despite how your mind feels, the body starts to break down and there's a good chance you'll need a hospital visit during your retirement years. Living in Pittsburgh is great since there are more specialists and medical services available and at cheaper rates.
Access to Local Businesses: city living offers walking distance to most businesses that you'll ever use in your retirement years. Even if you need to travel, there are a lot more shopping centers and discount stores in urban areas.
Fitness: exercise is critical to keeping healthy during your retirement years. Cities have every type of fitness facility from standard fitness centers to niche fitness places like indoor rock climbing walls so there's something for everyone. Even if you want to exercise on your own, there's tons of parks or indoor malls to enjoy walking in.
Continuing Education: today's seniors know the importance of exercising their brains, as well as their bodies. Urban living provides access to a wide range of classes, through local universities, museums, city recreation departments, etc. Enrolling in these types of courses can help stave off the depression that some people feel once they stop working full time.
Food and Entertainment: retirement should be full of activities you never had a chance to enjoy while working. Dinners out to fancy restaurants or weekend getaways to a nearby city or historical site are all possible living in a city. Usually, cities have tons of entertainment venues like theaters and museums and there's always something going on.
Retirement Housing Options: In Pittsburgh PA there are unique housing options which include condos, apartments for rent, hi-rises, retirement communities, lofts, co-ops, luxury condominiums, top end townhouses and other housing for over 55 boomers and seniors.
Pennsylvania Retirement Communities and Homes
Sherwood Oaks PA
100 Norman Drive, Cranberry Twp, PA 16066
5-star Pennsylvania retirement community outside of Pittsburgh. Custom homes, amenities, services, activities, care 24/7.
UPMC Senior Communities
200 Lothrop Street, Pittsburgh, PA 15213-2536
Independent Living - For healthy, self-sufficient seniors, independent living at UPMC Senior Communities means the freedom and privacy of apartment living, with the convenience, security, and activities of a vibrant community in beautiful surroundings. Learn more about our affordable retirement communities in the western Pennsylvania area.
AUBA Senior Citizens Apartments
2700 Centre Avenue, Pittsburgh, PA 15219-4944
Pittsburgh Areas
Cranberry Township features:
* Population: est. 28,073
* Land Size: 23.69 square miles
* Cranberry Community Park
* Extensive Parks & Recreation program
* Athletic associations for baseball, football, soccer and softball
* Cranberry Highlands Golf Course
* Access to major highways including Interstates 79, 279, 76 (PA Turnpike) and Routes 19 and 228.