Kansas City, informally called "KC," is the largest city in the U.S. state of Missouri and is the anchor city of the Kansas City Metropolitan Area, the second largest metro area in Missouri. It encompasses 318 square miles (820 km2) in parts of Jackson, Clay, Cass, and Platte counties. It is one of two county seats of Jackson County, the other being Independence, which is to the city's east. As of February 6, 2009, it was revealed that the US census had underestimated Kansas City's population, and re-released it to be 475,830, with a metro area of over two million.
Kansas City Retirement Housing Options: In Kansas City there are unique housing options which include condos, apartments for rent, high rises, retirement communities, lofts, co-ops, luxury condos, top end townhouses and other housing for over 55 boomers and seniors.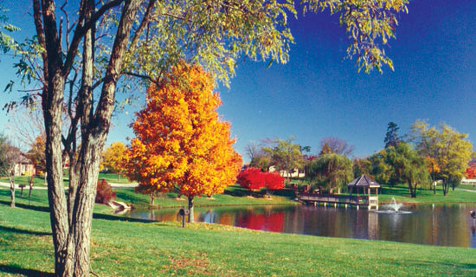 Foxwood Springs located in Raymore, Missouri near Kansas City is a Continuing Care Retirement Community. We offer exceptional Independent Living, Personalized Assisted Living, Alzheimer's and Dementia Care and Skilled Nursing Care options for seniors. Nestled in a scenic, rural setting with beautifully manicured courtyards, Foxwood Springs offers residents a wonderful place to call home. Our extensive transportation services make all of your favorite restaurants, shops and local attractions easily accessible. At Foxwood Springs, our convenient setting is matched only by the convenience you'll enjoy through our numerous services. Our restaurant-style dining will have you anxiously anticipating your next meal. And you'll find plenty of opportunity for activities and socializing, whether it's taking a relaxing swim in our indoor, heated swimming pool; getting in a quick workout on our tennis court; or simply shooting a game of pool with friends. There's something for everyone at Foxwood Springs! Choose from spacious apartments or lovely garden homes, and rest easy knowing a full continuum of care is available should your needs change. With staff available 24 hours a day, you'll be able to live life to the fullest at Foxwood Springs.
Spencer Place – A distinguished retirement community in the heart of it all. That's Bishop Spencer Place, now celebrating 15 years in our landmark location near the Country Club Plaza. Those who live at Bishop Spencer Place love their Madison Avenue address, with easy access to culture, cuisine and adventure in every direction. Our modern, well-designed residences have all the comforts of home, but none of the hassles. You'll find the neighbors sociable, the staff members hospitable and helpful. And everyone raves about our exceptional cuisine provided by PB&J Restaurants, our renowned dining services partner. While most residents lead active lives in our independent living apartments, they and their families are pleased to know we have a full continuum of on-site health care if ever needed — including assisted living, skilled nursing and private-duty care. We also have a close affiliation with Saint Luke's Hospital, located just 2 blocks east of Bishop Spencer Place.

Missouri Retirement Communities
Kansas City, Missouri, is organized into a system of more than 240 neighborhoods, some with histories as independent cities or the sites of major events. Downtown, the center of the city, is currently undergoing major redevelopment with new condos, apartments, offices and The Power & Light District (shopping/entertainment development) complete with bars, restaurants, a grocery store with a tony roof-top pool club called The Jones, a theatre and The Sprint Center. All these things have made downtown/midtown a more viable residential option more than ever. Near Downtown, the urban core of the city has a variety of neighborhoods, including historical Westport, Ivanhoe, Hyde Park, Squire Park, the Crossroads Arts District, 18th and Vine Historic District, Pendleton Heights, Quality Hill, the West Bottoms, and the River Market; one up-and-coming "newer" neighborhood just minutes from downtown is upscale Briarcliff, though it is in the so-called "North-land" or simply "North of the River". Two other "near" downtown neighborhoods that are very popular and have unique appeal include the Country Club Plaza (or simply the "Plaza"), south Plaza and nearby Brookside. Source: wikipedia.com
Here are some other reasons to choose retirement living in Kansas City.
Social Opportunities: studies have shown that a good group of friends is more important to a happy retirement than money or health. Kansas City offers many opportunities with civic groups and hobby clubs to generate a solid core group of friends. These friends can help ward off the problems of aging like dementia and health issues.

Public Transportation: rural living isn't good for seniors who can't drive since they require someone's help to get around. The expenses of transportation add up quickly for fixed-income seniors so the public transportation of Kansas City is quite beneficial. Even better is that most public transit systems have senior rates that are much cheaper than normal.

Access to Medical Services: it's pretty obvious that if you live near a hospital, you're more likely to survive a medical emergency. Despite how your mind feels, the body starts to break down and there's a good chance you'll need a hospital visit during your retirement years. Living in Kansas City is great since there are more specialists and medical services available and at cheaper rates.

Access to Local Businesses: city living offers walking distance to most businesses that you'll ever use in your retirement years. Even if you need to travel, there are a lot more shopping centers and discount stores in urban areas.

Fitness: exercise is critical to keeping healthy during your retirement years. Cities have every type of fitness facility from standard fitness centers to niche fitness places like indoor rock climbing walls so there's something for everyone. Even if you want to exercise on your own, there's tons of parks or indoor malls to enjoy walking in.

Continuing Education: today's seniors know the importance of exercising their brains, as well as their bodies. Urban living provides access to a wide range of classes, through local universities, museums, city recreation departments, etc. Enrolling in these types of courses can help stave off the depression that some people feel once they stop working full time.

Food and Entertainment: retirement should be full of activities you never had a chance to enjoy while working. Dinners out to fancy restaurants or weekend getaways to a nearby city or historical site are all possible living in a city. Usually, cities have tons of entertainment venues like theaters and museums and there's always something going on. Greater Downtown Kansas City is cool – from the historic River Market to jazzy 18th & Vine; from the artistic Crossroads to the bubbly Martini Corner; from the hot and spicy Westside to the Sprint Center, Midland Theatre and P&L District,; from the vibrancy of Crown Center and Union Station to the nobility of Liberty Memorial and the National WWI Museum.
The sum of Downtown's parts adds up to an exciting destination and diverse neighborhood with synergy, vibrancy and uniqueness unrivaled in the region. It features more than 200 restaurants, nearly 80 art galleries and studios and a feast of performing arts, museums, theaters, attractions and special events.