Orlando, FL is one of the biggest tourist destinations on the planet. Home to Walt Disney World, Universal Studios, and Sea World, there is a never-ending option of activities to do.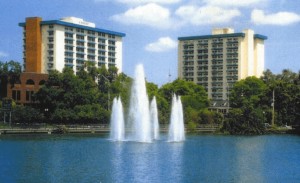 Orlando, which recently opened a new arena for the NBA's Orlando Magic, is full of cultural attractions beyond the standard touristy things. Winter Park, a nearby community, is home to Rollins College and has kept its small town charm with walkable streets and a farmer's market every weekend.
Orlando also has cheap real estate due to the recent real estate crisis. There are condos available in the Kissimmee area for under $100,000. This area is minutes away from Disney World so it's a great location to be for family members to visit.
Many consider Orlando Florida to be among the best retirement cities in the U.S. Here are some other reasons to choose living in Orlando.
Social Opportunities: studies have shown that a good group of friends is more important to a happy retirement than money or health. Orlando offers many opportunities with civic groups and hobby clubs to generate a solid core group of friends. These friends can help ward off the problems of aging like dementia and health issues.
Public Transportation: rural living isn't good for seniors who can't drive since they require someone's help to get around. The expenses of transportation add up quickly for fixed-income seniors so the public transportation of Orlando is quite beneficial. Even better is that most public transit systems have senior rates that are much cheaper than normal.
Access to Medical Services: it's pretty obvious that if you live near a hospital, you're more likely to survive a medical emergency. Despite how your mind feels, the body starts to break down and there's a good chance you'll need a hospital visit during your retirement years. Living in Orlando is great since there are more specialists and medical services available and at cheaper rates.
Access to Local Businesses: city living offers walking distance to most businesses that you'll ever use in your retirement years. Even if you need to travel, there are a lot more shopping centers and discount stores in urban areas.
Fitness: exercise is critical to keeping healthy during your retirement years. Cities have every type of fitness facility from standard fitness centers to niche fitness places like indoor rock climbing walls so there's something for everyone. Even if you want to exercise on your own, there's tons of parks or indoor malls to enjoy walking in.
Continuing Education: today's seniors know the importance of exercising their brains, as well as their bodies. Urban living provides access to a wide range of classes, through local universities, museums, city recreation departments, etc. Enrolling in these types of courses can help stave off the depression that some people feel once they stop working full time.
Food and Entertainment: retirement should be full of activities you never had a chance to enjoy while working. Dinners out to fancy restaurants or weekend getaways to a nearby city or historical site are all possible living in a city. Orlando has tons of entertainment venues because it's the vacation destination of the world and there's always something going on.
Orlando Retirement Housing Options: In Orlando there are unique housing options which include condos, apartments for rent, hi-rises, retirement communities, lofts, co-ops, luxury condominiums, top end townhouses and other housing for over 55 boomers and seniors. Also when needed, there are nureous fine assisted living facilities with skilled nursing facility.
Florida Senior Retirement Communities and Homes
Victoria Gardens is an active adult golf retirement community located in DeLand northeast of Orlando offering new homes with fabulous in-home and on-site amenities.
Trilogy by Shea Homes - Central Florida
Groveland, FL 34736
Trilogy in Central Florida is an active adult retirement community found in the gently rolling hills in south Lake County in Central Florida just a 30-minute drive to Disneyworld® and the renowned attractions of the greater Orlando area.
Westminster Towers Orlando - Ideally situated on the south side of downtown Orlando adjacent to quaint, historic neighborhoods, Westminster Towers Orlando is a 19-story high-rise with over 200 residential and 50 residential assisted living apartment homes, and a 120-bed health center. Residential homes range from studios to spacious two-bedroom apartments. All models feature spectacular views, whether you choose lower-level vistas of native flora and fauna or upper-floor panoramas of Orlando – "The City Beautiful." Westminster Towers Orlando also provides Residential Assisted Living and Skilled Nursing services.
Kinneret Apartments and the Kinneret Council on Aging are committed to providing a quality, life-enhancing residential experience for the residents of Kinneret Apartments, located in downtown Orlando, Florida. Kinneret is a model of unique, affordable housing. No other federally and community funded facility in the Greater Orlando area can boast of the array of services and life-enhancing programs that are currently available at Kinneret. Kinneret Apartments, through a professional management company, operates two 15-story apartment towers. The Kinneret Council on Aging was the first Jewish non-profit agency in the Central Florida area and provides a subsidized dining program and numerous other programs that address the social, educational, spiritual and wellness needs of our diverse population.
Assisted Living supports an independent lifestyle for seniors who need personal attention and assistance. At Spring Hills senior communities, our assisted living communities ensure peace of mind for total well-being. Our holistic care approach exemplifies our commitment to making healthy and active living the foundation of every aspect of life at Spring Hills.