Tampa and Tampa Bay area is a fast growing city on the west coast of Florida. It recently passed 4 million people in population (of the metro area) making it in the top 60 cities in the United States.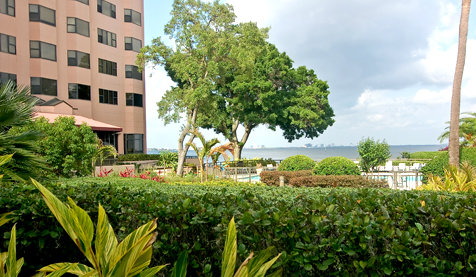 Tampa is a great place to retire for many reasons. One is the beautiful beaches, of which Clearwater is one of the most popular. Since Tampa is located on a bay, there are many other beaches within an hour's drive so there's no need to ever visit the same beach twice unless you want to do so.
Tampa's also home to a major cruise port so you can jump on a cruise ship last minute and visit many destinations in the Caribbean. If cruising doesn't interest you, you can always visit one of Tampa's amusement parks like Busch Gardens or catch a game at one of Tampa's 3 professional sports teams. Tampa is also the site of this years Republican National Convention. The RNC will be held the week of August 27, 2012 at the Tampa Bay Times Forum.

Tampa Bay Retirement Housing Options
In Tampa Florida there are unique housing options which include condos, apartments for rent, hi-rises, retirement communities, lofts, co-ops, luxury condominiums, senior communities, top end townhouses and other housing for over 55 boomers and seniors.
University Village Tampa FL Senior Living
12401 North 22nd Street, Tampa, FL 33612
University Village in Tampa, FL is a vibrant Masterpiece Living retirement community. You can honestly feel the vitality of the culture when you enter our buildings, so come visit us and meet our residents - your future neighbors. Tampa Bay offers our residents and visitors a community rich in arts, history, attractions, sports, and year round events and things to do. Whether you are looking for an evening out on the town or a full day of activities, Tampa Bay has something to suit everyone's taste.
Aston Gardens: Florida's Senior Living At Its Finest
In one of our Florida senior communities, you'll discover how to reconnect with your active lifestyle (or enhance your current one). Our Florida senior living choices include: independent living rental apartment homes, assisted living suites, and for-sale villas. The rental apartment homes are beautifully situated in our picturesque grounds, but offer convenient access to central amenities. Aston Gardens at Tampa Bay is located on 120 lush green acres close to Tampa's upscale Westchase area offering conveniences to world class shopping, cultural activities, golfing and state-of-the-art medical care
Grand Court Tampa located in Tampa, Florida offers Exceptional Independent Living and Personalized Assisted Living options for seniors. We offer an exceptional lifestyle to our residents, from the well-appointed interiors to the wide array of services and amenities. At Grand Court, you'll find it easy to make friends and try new things. Enjoy a delightful, restaurant-style meal among friends in our comfortable, full-service dining room, complete with table-side service.
Tampa Florida Retirement Living Profile:
Many consider Tampa to be among the best retirement cities in the U.S. Here are some other reasons to choose living in Tampa.
Social Opportunities: studies have shown that a good group of friends is more important to a happy retirement than money or health. Tampa offers many opportunities with civic groups and hobby clubs to generate a solid core group of friends. These friends can help ward off the problems of aging like dementia and health issues.
Tampa Public Transportation: rural living isn't good for seniors who can't drive since they require someone's help to get around. The expenses of transportation add up quickly for fixed-income seniors so the public transportation of Tampa is quite beneficial. Even better is that most public transit systems have senior rates that are much cheaper than normal.
Tampa's Access to Medical Services: it's pretty obvious that if you live near a hospital, you're more likely to survive a medical emergency. Despite how your mind feels, the body starts to break down and there's a good chance you'll need a hospital visit during your retirement years. Living in Tampa is great since there are more specialists and medical services available and at cheaper rates. Tampa's hospitals include James A. Haley, Veteran's Hospital, Pepin Heart Institute, St. Joseph's Hospital, University Community Hospital, H. Lee Moffitt Center and Research Institute
Access to Local Tampa Bay Shopping: Tampa offers walking distance to most businesses that you'll ever use in your retirement years. Even if you need to travel, there are a lot more shopping centers and discount stores in urban areas. Some of Tampa's excellent shopping include International Mall Plaza, Prime Outlets at Ellenton, University Mall, Westshore Mall
Fitness in Tampa FL: exercise is critical to keeping healthy during your retirement years. Tampa has the great weather for every type of fitness facility from standard fitness centers to niche fitness places like indoor rock climbing walls so there's something for everyone. Even if you want to exercise on your own, there's tons of parks or indoor malls to enjoy walking in.
Tampa has Continuing Education: today's seniors know the importance of exercising their brains, as well as their bodies. Urban living provides access to a wide range of classes, through local universities, museums, city recreation departments, etc. Enrolling in these types of courses can help stave off the depression that some people feel once they stop working full time. Museum of Science & Industry (MOSI), Tampa Museum of Art, University of South Florida
Food and Entertainment in Tampa: retirement should be full of activities you never had a chance to enjoy while working. Dinners out to fancy restaurants or weekend getaways to a nearby city or historical site are all possible living in a city. Usually, cities have tons of entertainment venues like theaters and museums and there's always something going on. Tampa Bay attractions include Busch Gardens, Cruises, Florida Aquarium, Lowry Park Zoo
Raymond James Stadium
St. Pete Times Forum
Tampa International Airport