San Jose, California is the 3rd largest city in California and home to "Silicon Valley" which is full of major technology companies of all sorts.
San Jose has a very Mediterranean climate with over 300 days of sunshine a year. Most of the rain that does fall (which isn't much) comes during the winter months. This gorgeous weather is attractive since its very easy to get to the ocean and enjoy sunny days and sandy beaches.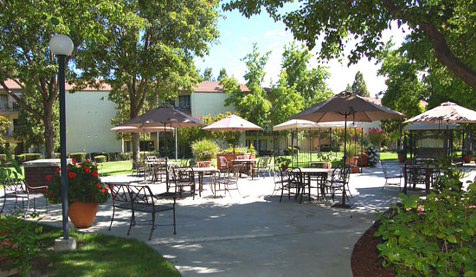 Since San Jose is a city full of technology companies, you're going to find a lot of eclectic restaurants, clubs, bars, and other hip venues. This is great for retirees who want to stay young and on the cutting-edge of American culture.

San Jose Retirement Housing Options: In San Jose CA there are unique housing options which include condos, apartments for rent, high rises, retirement communities, lofts, co-ops, luxury condos, top end townhouses and other housing for over 55 boomers and seniors.
California Retirement Community Living
The Villages Golf and Country Club is a gated private adult retirement community in San Jose CA exclusively for adults age 55 and over. Established in 1967, The Villages offers a safe and serene living environment and spectacular championship golf course surrounded by distinctive neighborhoods, located in the Evergreen foothills area of the Santa Clara County, California.
Carlton Plaza of San Jose
380 Branham Lane, San Jose, CA 95136
Carlton Plaza of San Jose balances value and resort style living in Silicon Valley. From the walk-around aquarium in the front lobby to the living room designed for entertainment, this community inspires residents to make the most of each day. The common area focuses on amusement and features a grand piano, classic movies on the big screen and a stage for professional entertainers.
Town Park Towers, conveniently located close to San Jose's historic downtown, is a comfortable, secure, residential living facility for low- to moderate-income seniors, age 62 and older. Town Park Towers has studios, alcoves, and one-bedroom apartments, each with a private bath, complete kitchen, and a balcony. The community—which is culturally diverse and conveniently located near places of worship, physicians' offices, senior centers, shopping, universities, and many of San Jose's top attractions--is an ideal retirement community.
The Atrium of San Jose located in San Jose, California offers exceptional Independent Living and Supportive Service options for seniors. Situated on Blossom River Way, just across the street from Westfield Oakridge Mall, our convenient location also gives you easy access to a number of movie theaters, senior centers and popular restaurants. As a resident of The Atrium, you'll find we offer the perfect balance of fun, engaging activity and respect for your privacy. If you're looking to stay active and involved, Atrium is the place to be as there are endless opportunities to experience new things and make new friends. You can enjoy our exceptional restaurant-style dining with a menu full of choices while socializing with friends; tend to your favorite plants in the outdoor gardening areas; or stroll around our beautifully manicured grounds and ponds on our inviting walking paths.
Many consider San Jose California to be among the best retirement cities in the U.S. Here are some other reasons to choose living in San Jose.
Social Opportunities: studies have shown that a good group of friends is more important to a happy retirement than money or health. San Jose offers many opportunities with civic groups and hobby clubs to generate a solid core group of friends. These friends can help ward off the problems of aging like dementia and health issues.
Public Transportation: rural living isn't good for seniors who can't drive since they require someone's help to get around. The expenses of transportation add up quickly for fixed-income seniors so the public transportation of San Jose is quite beneficial. Even better is that most public transit systems have senior rates that are much cheaper than normal. Airports in the San Jose CA area include Reid Hillview Airport, Oakland International Airport and the San Jose International Airport.
Access to Medical Services: it's pretty obvious that if you live near a hospital, you're more likely to survive a medical emergency. Despite how your mind feels, the body starts to break down and there's a good chance you'll need a hospital visit during your retirement years. Living in San Jose is great since there are more specialists and medical services available and at cheaper rates. Hospitals include Santa Clara Valley Medical Center, Good Samaritan Hospital, Regional Medical Center of San Jose, Kaiser Permanente, Mayview Hospital.
Access to San Jose Shopping: San Jose offers walking distance to most businesses that you'll ever use in your retirement years. Even if you need to travel, there are a lot more shopping centers and discount stores in urban areas. Plenty of shopping in the San Jose area including Eastridge Mall - San Jose - shopping, Gilroy Premium Outlets - Gilroy, Great Mall Of The Bay Area - Milpitas, McCarthy Ranch - Milpitas, Oakridge Westfield - San Jose, San Jose Flea Market - World's largest flea market. San Pedro Square - Dining & entertainment, Santana Row - Shopping, dining, entertainment, Stanford Shopping Center - Palo Alto, Town and Country Village - Palo Alto, Valley Fair Westfield Shoppingtown - San Jose, Westgate Mall in San Jose Caliofornia.
San Jose CA Fitness: exercise is critical to keeping healthy during your retirement years. San Jose CA has beautiful weather and every type of fitness facility from standard fitness centers to niche fitness places like indoor rock climbing walls so there's something for everyone. Even if you want to exercise on your own, there's tons of parks or indoor malls to enjoy walking in including the Santa Clara County's Parks and Recreation and Paramount's Great America.
San Jose CA Continuing Education: today's seniors know the importance of exercising their brains, as well as their bodies. Urban living provides access to a wide range of classes, through local universities, museums, city recreation departments, etc. Enrolling in these types of courses can help stave off the depression that some people feel once they stop working full time.
Food and Entertainment: retirement should be full of activities you never had a chance to enjoy while working. Dinners out to fancy restaurants or weekend getaways to a nearby city or historical site are all possible living in a city. Usually, cities have tons of entertainment venues like theaters and museums and there's always something going on.