San Diego is the 8th largest city in the United States and the 2nd largest after Los Angeles in California. It has received many awards and recognitions for high quality living. According to Money Magazine, it was one of the top 5 places to live. Forbes further recognized San Diego as one of the top 10 safest places to live.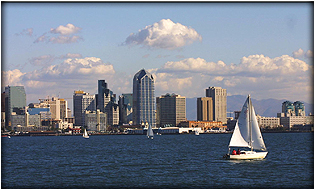 With a diverse economy, San Diego rarely has major economic problems since many of its industries are stable and growing. This means that real estate values, while expensive, will in the long-run rise.
With a very warm (over 200 days above 70 degrees Fahrenheit) and dry (most years are under 14 inches of rain) climate, San Diego makes a great retirement destination for seniors wanting to escape cold and humid weather. With the Pacific Ocean nearby and plenty of sun, San Diego is a great place for seniors who want to visit the beach and enjoy water sports and boating.
San Diego is also full of sporting events and theme parks. San Diego has football and baseball teams as well as SeaWorld and the world-famous San Diego Zoo. All these attractions plus many festivals make San Diego a fun city. San Diego is also home to a major cruise port so it's very easy to hop on a cruise last minute for a nice weekend getaway.
Many consider San Diego to be among the best retirement cities in the U.S. Here are some other reasons to choose living in San Diego.
Social Opportunities: studies have shown that a good group of friends is more important to a happy retirement than money or health. San Diego offers many opportunities with civic groups and hobby clubs to generate a solid core group of friends. These friends can help ward off the problems of aging like dementia and health issues.
Public Transportation: rural living isn't good for seniors who can't drive since they require someone's help to get around. The expenses of transportation add up quickly for fixed-income seniors so the public transportation of San Diego is quite beneficial. Even better is that most public transit systems have senior rates that are much cheaper than normal.
Access to Medical Services: it's pretty obvious that if you live near a hospital, you're more likely to survive a medical emergency. Despite how your mind feels, the body starts to break down and there's a good chance you'll need a hospital visit during your retirement years. Living in San Diego is great since there are more specialists and medical services available and at cheaper rates.
Access to Local Businesses: city living offers walking distance to most businesses that you'll ever use in your retirement years. Even if you need to travel, there are a lot more shopping centers and discount stores in urban areas.
Fitness: exercise is critical to keeping healthy during your retirement years. Cities have every type of fitness facility from standard fitness centers to niche fitness places like indoor rock climbing walls so there's something for everyone. Even if you want to exercise on your own, there's tons of parks or indoor malls to enjoy walking in.
Continuing Education: today's seniors know the importance of exercising their brains, as well as their bodies. Urban living provides access to a wide range of classes, through local universities, museums, city recreation departments, etc. Enrolling in these types of courses can help stave off the depression that some people feel once they stop working full time.
Food and Entertainment: retirement should be full of activities you never had a chance to enjoy while working. Dinners out to fancy restaurants or weekend getaways to a nearby city or historical site are all possible living in a city. Usually, cities have tons of entertainment venues like theaters and museums and there's always something going on.
San Diego CA Retirement Housing Options: In San Diego there are unique housing options which include condos, apartments for rent, hi-rises, retirement communities, lofts, co-ops, luxury condominiums, top end townhouses and other housing for over 55 boomers and seniors.
California Senior Retirement Communities and Homes
Carlsbad Retirement Community
Carlsbad, CA 92009 - Carlsbad By The Sea is a Continuing Care Retirement Community offering Independent Living, Assisted Living, and Skilled Nursing Care.
St. Paul's Senior Homes & Services - San Diego California
328 Maple Street, San Diego, CA 92103
St. Paul's Senior Homes & Services is a full-service, nonprofit retirement community with independent, assisted living and skilled nursing communities as well as an intergenerational day care program and Program of All-inclusive Care for the Elderly.
Chula Vista Retirement Community
183 Third Ave, Chula Vista, CA 91910
Fredericka Manor is a Continuing Care Retirement Community offering four levels of care: Independent Living, Assisted Living, Medicare-certified Skilled Nursing with a rehabilitation services, and a specialized, secure 60-bed Alzheimer's program.
Wesley Palms 2404 Loring St, San Diego, CA 92109 is a multi-level care retirement community offering Assisted Living and Wellness Clinic. The clinic is staffed with licensed nurses around the clock dental clinic, on-site x-ray, blood pressure testing and medication management.
La Jolla Retirement Community Casa de Manana is a licensed Continuing Care Retirement Community offering Independent Living and Assisted Living Care with an on-site Wellness Clinic.
Casa de las Campanas is a San Diego retirement community especially designed for active, involved people who are determined to continue living life to the fullest. Our philosophy of continuing care makes it possible. Casa is the only proven Rancho Bernardo (San Diego) community to offer the combination of unlimited social and recreational senior living opportunities, high-quality professional services, abundant amenities and peace of mind which only on-site health care can provide.
Irene Thiel - Resident Realtor for Active Adults in Rancho Bernardo and San Diego CA. Born and raised in San Diego,and with thirty years of full time real estate experience, I know this city well. Currently a resident of Rancho Bernardo and familiar with both of the senior communities, I help people moving in and moving out. Do you need reserources to help with fix up, moving, home support - just let me know how I can help you.
Bayside at the Embarcadero - Downtown San Diego condominiums offer spectacular bay & sunset views. Incredibly spacious 1 & 2 bedroom condo's, rich with amenities and quality features. Bayside at the Embarcadero is downtown San Diego condominium living at its absolute finest. (not just a senior community, but well suited to the downsizing retiree). Near Little Italy and the Gaslamp Quarter