Charlotte's home to many major corporation and is the biggest banking center in the U.S. outside of New York City. It's also home to many racing enterprises since NASCAR is headquartered here with 75% of its employees within 2 hours of downtown Charlotte. In recent years, renewable energy has been booming to the point where Charlotte is known as the "New Energy Capital."
No matter what you want for retirement, Charlotte is a great place to consider due to its diverse economy, increasingly urban living, and plenty of cultural activities to go around.
Many consider Charlotte North Carolina to be among the best retirement cities in the U.S.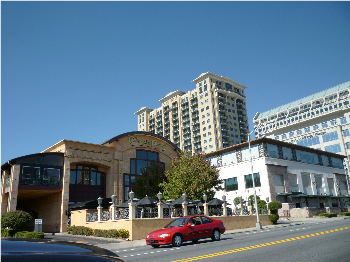 Retirement 55+ Housing Options: Charlotte, NC There are unique housing options which include condos, apartments for rent, hi-rises, retirement communities, lofts, co-ops, luxury condominiums, top end townhouses and other housing for over 55 boomers and seniors.
The Cypress of Raleigh
is dedicated to your quality of life, and is perfectly designed for your retirement lifestyle. It's a community that has been carefully and thoughtfully planned to ensure the highest level of service and the highest degree of satisfaction.
Charlotte Retirement Living
Charlotte Retirement Hi Rises are mostly located in South Park, South End, and Uptown Charlotte.
Center City Property - This guy specializes in selling real estate in a variety of neighborhoods including Center City Charlotte, Uptown Charlotte, Downtown Charlotte, Dilworth, Myers Park, and No Da. Seems to be the go to guy in Charlotte urban city residential real estate.
The Vue - Charlotte The VUE is a new 51-story, 409 unit high rise coming to Charlotte's Uptown on the corner of Fifth and Pine Street. This project has been met with excitement and anticipation as it seeks to add architecturally and culturally to Charlotte. 51 stories of luxury condominium residences in Charlotte's Uptown. Making your home here means leading an active city life with countless conveniences and amenities. It means living close to where you work and where you play - your whole life within walking distance.
Social
In the computer age, there have been many sites created to help people mingle. The best one is meetup.com. It's an online directory of all kinds of offline clubs. It provides an online home to these clubs so new members can inquire about joining. Charlotte's page can be found at www.meetup.com/cities/us/nc/charlotte
Another area to possibly find clubs is to join a local country club as a social member. Many clubs have this level of membership where you can attend events without golfing on the course. This is a great way to get connected into the community.
No matter your political party, you can always look for clubs related to politics by searching on national registries for local clubs or groups.
Public Transportation
Charlotte's mass transit system is known as CATS (Charlotte Area Transit Authority). It operates buses, shuttles, trolleys, and a new light rail system known as LYNX which opened in 2007.
There are 546 vehicles in this fleet. With the LYNX system experiencing growth and a new line slated to be finished to the University of North Carolina-Charlotte campus by 2018, it's pretty easy to get around. The system also provides special fares and services to seniors and those with disabilities.
Access to Medical Services
The Carolinas Medical Center (http://www.carolinasmedicalcenter.org) is a big hospital group in the Charlotte area. They have experienced rapid growth by adding new hospitals in Fiscal Year 2009. At the start of 2012, they added a group of hospitals in Western North Carolina.
Access To Local Businesses
With a wide array of road networks, it's easy for seniors to get in the car and drive to local areas for entertainment or necessary services. By living in the center of the city, there will be tons of different restaurants and service providers ready to cater to your every need. Since Charlotte has experienced a lot of growth in urban living (20 skyscrapers have been completed, under construction, or planned), you can be sure that if you live in a high rise condo that you'll have almost any service provider within a quick distance from you.
Restaurants
For higher end Italian dining, Luce Ristorante e Bar (http://www.luceristorante.net/) is a downtown favorite.
For sushi lovers, Joel's Grille and Sushi is a local favorite (http://www.joelsgrill.com/) over in Mooresville
There are loads of other restaurants that can be found on http://www.urbanspoon.com/c/38/Charlotte-restaurants.html
Fitness
For fitness lovers, Charlotte offers some very unique opportunities. The U.S. National Whitewater Center is located west of Charlotte. You can visit it year round to ride the man-made rapids.
Lake Norman is north of the city and is home to state parks. You can visit it for hiking, camping, and other outdoor fitness activities.
Continuing Education
There are many universities in the Charlotte area. The biggest however is the University of North Carolina-Charlotte. It has over 24,000 students and is the fastest growing campus in the state system. Located nearby is a corporate research park spanning 3,200 acres.
With the UNC campus so close by, you could take classes in the morning and visit museums in the afternoons, and attend a seminar in the evening.
The Charlotte Library system also has 1.5 million books and 24 locations around the metro area so it's easy to pick up new books no matter where you live.
Cultural Attractions
There are many cultural attractions related to Charlotte's history dating back to the American Revolution. Some highlights include:
1. Bechtler Museum of Modern Art (http://www.bechtler.org) is a brand new in early 2012 museum dedicated to mid-20th century European artists. It houses the private collection of the Bechtler family of Switzerland.
2. Carolinas Aviation Museum (http://www.carolinasaviation.org/) has over 50 airplanes and many smaller exhibits related to the history of aviation in North and South Carolina. It just moved from its original location in the original hanger of the Charlotte/Douglas International Airport to a brand-new facility that has more space and protection for the aircraft.
3. NASCAR Hall of Fame (http://www.nascarhall.com) is a brand new museum dedicated to the history of NASCAR. It has over 40,000 feet of exhibit space.
There are many other cultural attractions that can be found at www.charlottesgotalot.com/