Many baby boomers have lived and worked a good portion of their pre-retirement lives in major cities, yet a majority of 55+ communities are in suburban or rural locations. Until the 1990s, it was difficult to find licensed city living housing for seniors in large cities. In the past few decades, though, there has been an "urban renaissance," attracting developers to build metropolitan retirement communities in response to an expanding market of seniors who want to stay active and involved in urban lifestyles. They may look like apartment buildings or condominium projects, but these 55+ city housing communities are regulated as insurance or health care products, depending on the state they are in, just as their suburban counterparts are.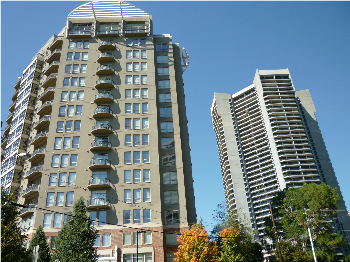 Some retirees have no desire to live in an isolated place where they spend their time on bridge and macramé. They want to be connected to the energy of the city. City living housing is usually just a few blocks from thriving markets, central shopping and entertainment districts, and a variety of cultural attractions, and increasing numbers of retirees are choosing them for the retirement lifestyle, convenience, and amenities available there.
City housing options for boomers and seniors integrate the standards required for age-restricted communities into an urban residential model. They may be high-rise apartment towers, mid-rise apartment buildings, retirement condominium communities, studio/efficiency apartments, lofts, or more suburban townhomes or small patio-style homes. For official age-restricted senior living communities, design requirements include shortened travel distances to elevators and ease of access to services and facilities on different floors.
Although there is a range of pricing among these urban 55+ communities, many of them are aimed at affluent professional retirees, and charge both hefty entry fees and high monthly maintenance charges. These high-end housing options for boomers and seniors feature resort hotel-like amenities and services and special recreational facilities, such as saline swimming pools, state-of-the-art fitness centers, multiple attached restaurants, business centers, art studios, and even theaters.

Here we have provided descriptions of different types of city housing available for seniors in today's metropolitan areas. Following each description, we've offered our own comments as to the conveniences, downsides, and/or types of expenses involved for boomers considering that particular option.
· Apartments: Aside from the benefits of living in a high-energy urban environment, living in an apartment community has a number of practical advantages. Residents obviously are not responsible for any exterior residence maintenance, nor is there any landscaping or yard maintenance required. Also, during inclement weather, access to community facilities is immediate and does not require that you venture outside. Senior apartment communities may be located in buildings or compounds with many designs and layouts. The location, building style, size and type of individual residences – and amenities offered by the 55+ community – all affect the pricing and availability of apartments. Retirement Living comment: Apartments in general and senior apartments in particular are a great choice for retirement living. It is often possible in these apartment communities to rent before buying.
High-rise apartment towers: These are apartment residences (multi-dwelling units) in urban areas that are over seven storeys in height. High-rise apartment complexes are popular in urban areas because buildable land is at a premium; it is a more efficient use of available property to stack many residential units one on top of another, instead of one single-family home. Generally speaking, Hi-rise residential buildings in most major cities are some of the priciest real estate available, primarily due to their ideal location. Retirement Living Comment: Hi-rises are a great choice for retirement living since they are generally located in densely populated areas, with most major services concentrated within walking distance. Luxury Hi-rises commonly have a version of a hotel concierge where someone can help you with errands and anything else you might need.



Mid-rise apartment buildings: Mid-Rise apartment buildings – with four to seven storeys each – are making a comeback in urban areas. Often, mid-rise apartment communities spring up when businesses move in to redevelop neighborhoods. Improvements in construction techniques and materials make them easier to build, and new zoning laws help to control the density of neighborhoods.



Low-rise apartment communities: Low-Rise Buildings are basically buildings that are fewer than four storeys tall. While not commonly found in densely populated areas due to their inefficient use of expensive real estate, low-rise buildings comprise the main format of apartment living in suburban areas. Retirement Living Comment: Since they're usually designed to accommodate fewer residents, city living housing in low rise buildings appeal to seniors seeking a calmer pace of life.



Cooperatives: Cooperatives are apartment buildings owned by residents as shares of a "company" – or co-op – that owns the building. The co-op issues shares (stock) to each owner based on their unit size and amenities. This means that you do not actually own your apartment, but rather have stock in the co-op that owns your building.




Studio or Efficiency apartments: Found in all building styles, these are simple one room apartments designed for the senior who doesn't want a lot of space, and only needs a private space for eating, sleeping, bathing, and so on. These are usually cheaper than most city housing alternatives and are great for seniors who don't want to spend the money on space they'll never use.



Loft apartments: Lofts are big open-air apartments that are often converted office space. Today, due to the popularity of this apartment style, loft-style apartments are being built new, rather than waiting for property conversions. With high ceilings, big windows, and wide open spaces, lofts are great housing options for boomers and seniors who want to throw parties, gatherings, or just need a lot of space.




Condominium communities: Condominiums are simply a living space that is bought within a building, with the purchaser owning an individual unit as well as access to the common spaces. Also referred to as condos. Many retirement condominium communities are higher-end city living options for more affluent retirees, with costly entry fees and monthly maintenance charges. Retirement Living Comment: condos are usually purchased from a developer or previous owner. They can also be leased. There are a lot of companies whose sole business is finding the right condo for the right person at the right time.



Town Homes: These are two story, owner-occupied housing unit that share a wall with one or more neighboring units. Also called townhouses or row houses, town homes are common city housing options in cities like Washington D.C., Baltimore, Philadelphia, and San Francisco. Despite the narrow lots, many row houses offer spacious living areas, with some as large as 2,000 square feet or more. Retirement Living Comment: town homes can be a good housing option for boomers and seniors as long as a person is comfortable navigating stairs. Town homes are generally located in good neighborhoods, and are conveniently located near local services such as grocery stores, dry cleaners, and shopping malls.



Patio-style single family homes: Single family detached homes are the "Leave It To Beaver" style houses usually found in suburban subdivisions, and are designed to be shared by only one family unit. Also located in the same communities are duplexes, built similar to a single family home, but with two residences sharing one wall. Retirement Living Comment: It is quite common for retirees who want to remain in a house to downsize to smaller patio-style homes. Smaller homes save on utilities, and housekeeping is easier to manage. It is possible to own or rent single-family homes in many suburban 55+ communities.
Introducing the New - Senior Living Solutions Website -
Be.Group